Spout Run Terrace Condominiums :: Clarendon Area
Clarendon Area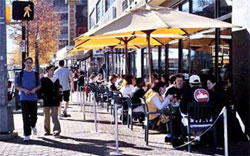 Clarendon plays host to businesses of all sorts and sizes, many of them with nationally recognized names. Gold's Gym is the destination of many a nine-to-fiver trying to keep fit, and the Clarendon Market Common shopping center features a Barnes & Noble, Crate & Barrel, and Pottery Barn. But Clarendon is probably better known for its local, homegrown businesses. David Tax, owner of the Lazy Sundae ice cream parlor and the recently opened Big Belly Deli, stated simply – "It's a place where small businesses can thrive." This combination of local and national results in a shopping and retail scene that is quite varied and unique.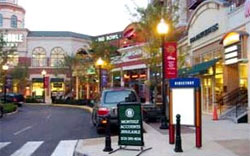 The prevalence of small businesses also contributes to the strong sense of community that pervades the area and manifests itself through a variety of neighborhood organizations and special events. One such organization, The Clarendon Alliance, is a neighborhood association that unites residents with business owners, both local and national, to address community issues and concerns and to market the community. Regular events in the area include a farmers market every Wednesday afternoon during the summer and a year-round antique and collectibles market on Saturdays. There is also an annual 5K race in the spring and the "Clarendon Day" festival in the fall. These other events reinforce the feeling of welcome and camaraderie that can be felt just spending an evening here. Joel Dabu, who has worked for the Clarendon Alliance for two years, may have put it best, saying that Clarendon is "like being in the city, but it's just more comfortable here."
Clarendon's reputation for good food and lively bars is very well deserved, as people from throughout the DC metropolitan area come to the neighborhood to sample the ethnic restaurants. Favorites range from Chinese to El Salvadoran to the best Peruvian chicken you've ever had, but you can also find Japanese, Greek, Cuban, American, Barbecue, Moroccan and several Vietnamese eateries all within walking distance of the Metro Stop. Of course, people stay for the nightlife once they're here. Whether it's the laid-back atmosphere and local music at Iota or the Galaxy Hut, the faster-paced, better-dressed scenes at the Clarendon Ballroom or Mister Day's, or somewhere in between, like Whitlow's, there is fun to be had after dark in Clarendon.
With its comfort, community, and cuisine, it's no surprise then that the area is attracting more and more people. Newly constructed housing options are presenting more opportunities for prospective residents seeking to join in the fun. However, even as more people arrive, the locals tend to agree that Clarendon will be able to retain its unique individuality as a young, quirky, and exciting Urban Village.
Courtesy of Arlington County Government, Arlington's Urban Villages - Clarendon
Clarendon History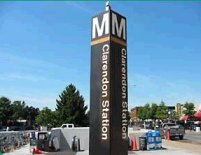 Clarendon is a neighborhood in Arlington County, Virginia, USA, located between the Rosslyn area and the Ballston area. The main thoroughfares are Wilson Boulevard (one-way westbound) and Clarendon Boulevard (one-way eastbound), roughly between Cleveland Street to the East and Jackson St/Kirkwood Road to the West. Clarendon has its own stop on the Orange Line of the Metrorail system at Wilson Boulevard and Highland Street.
Clarendon evolved into Arlington County's original "downtown" with the arrival of streetcars in the late nineteenth and early twentieth century. Two lines converged at Fairfax Drive and Wilson Blvd, just west of today's Clarendon Metro station. Like interurbans around the country, these lines were to remain in service until the mid-1930s, when they succumbed to the automobile and Great Depression era economics. In time Clarendon became Northern Virginia's retail center. Department stores including J.C. Penney and Sears opened stores in Clarendon, and other retailers extended west along Wilson Blvd and Fairfax Drive to Virginia Square (anchored by Kahn's Department Store) and, farther west, Parkington, later renovated and renamed Ballston.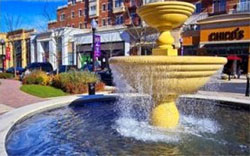 Clarendon was also selected as the location for Arlington's first Post Office building, dedicated in 1938 and now a historic landmark. Until then, Arlington's mail was handled in Washington, DC.
Since the advent of the Metro in the early 1980s, Clarendon has become well-known for its eclectic mix of unique shops, trendy bars, and small restaurants. More recently, luxury apartments and upscale chain stores have been constructed and gentrified the area, although some of the original businesses do remain. The former Sears store's parking lot and automotive department, briefly considered as a site for a Home Depot, was developed as a mixed residential/commercial project that now includes townhouses, luxury apartments, and national chain retail stores.
Courtesy of Wikipedia, Clarendon, Virginia